Our Blog
Boost up your knowledge with the wide range of writings.
By Nicolas Thomas | December 10, 2019
How to Create an App Design that Works to Make Easy Money
You must be wondering how do I create an app? How to make an app in 3 easy steps? and more. Well, these are all clickbait articles that are present on the internet to sell you a tool that creates an app online for few bucks but require more when you want to make it actually running. But before jumping on the app you need to learn how to create an app design that works. Why? Because users see an app's interface, not the code. The user interface is what makes the first impression on a user, not functionality.
But first, let me tell you this is going to be a long post but if you are looking for real insight into App design then you have jumped to the right article. Ok then let's start.
Blueprints, Plans, and Research:
The thing here is to know why you are actually going into creating an app. Blueprints are created even before putting the foundation stone of the building this creates a path constructor has to walk on. The same thing goes with the apps if you are thinking of creating an app then first come up with the blueprint of the app.
To create this blueprint you need to answer a few questions that will clear the path to proceed further. So their questions are:
What is the sole

purpose to create an app

?

How this app is going to

connect with its users

? What is the appeal here?

What is the

problem that you are trying to solve

with this app?

How your solution is different from others and is it going to attract more users?
These are the 4 questions that you need to put in front of you or your team before they make any move.
So as you now have a clear view of these questions lets move to another step that is planning.
The answer you have written in previous steps are going to help you now even more. Put them together and try to draw a scope of your app around those. These answers will help you create the equation that you need to follow to create a roadmap to create an app design that works.
This road map leads you and your team where you can also make a greater plan on how to make money from the mobile app. Not just current plans, but you will be able to think ahead of the time a little so that you can create plans on how to grow your app and how to take over the competition.
Now as things are getting clearer time does work on your competitors. Make a list of all the competitors who are working on the same solution as you are doing. Look at the designs of the apps you are going up against. To be honest you are jumping in a very competitive arena and currently, there are thousands of apps that are already offering solutions for the same problem as you are.
Research is an important part of creating an app. Building an understanding of the niches you jumping into keeping you one step ahead of your competitors. Install their app, use it for at least one month. Read users' reviews for them, it will tell you so many things that you might not have thought of.
Read More: Pros and Cons of Hiring an Indian App Developer
UX Designing to Make The App Work:
It is necessary for a user to understand what he or she is downloading on their phone. After downloading the app a user must be confident what thing is doing what, how to perform this and that. If you are adding something unique to your app you can tutorial but using it must not be too complicated.
Once you made things a bit complex you will lose a user. Just think as you are a new user and using the app for the first time and if you stuck somewhere in the app, you are done with it. You will start looking for an alternative to that app.
This is why you need to work on the UI and UX of the app, this will create an app design that works to make easy money. So what is a UX?
UX (User Experience) is a process that creates how a product is going to be used by its users. To do that it provides a meaningful and relevant experience to use by involving a better design idea that works along the workflow of the app with increasing any kind of complication in understanding the app.
To start with that you need to start working on the wireframe of the app. What is the wireframe? Well, the wireframe is a visualization of how your app is going to work as it is made life, just visualization. This visualization will put so many things that will show you where you are or might get disconnected from your users. This disconnection is what we are finding in our app idea and to fill this gap the UX teamwork on it.
It also simplifies the concept of the app and this practice of UX introduces new things to an app that can make the app more effective and efficient. As now our guide on UX is complete time to move towards UI.
Making the UI of App Based on UX:
Well, there are several places where you can see UI and UX are put together but actually they are totally different things. UX is called user experience that defines how an app is going to behave to bring it closer to its meaning and solution it is proposing. Where on the other hand, UI is all about the look and behavior of the app but only visually.
Pro Tip: Make your app stand out by putting a little animation but don't overdo it. Not like we used to do when we first learned animation in PowerPoint.
To make enriching UI design you can follow 2 of the best software in the market Adobe Xd and InVision. Well, it will be hard to use them as they need mastery to make a prototype of your app here. To do that with ease you can hire Indian App developer.
One UI gets finalized go back to your UX result and applies the UI to it and creates the prototype. Now test the app here as much as you want to get a satisfactory feeling. Because once you moved to the development stage, a little change is going to cost you a lot. Making a big investment on an app that could be done under a very low budget is just madness.
As your plans are to monetize your app in the future and if you create any unnecessary expenses it will only create harder to achieve your target after monetizing the app to recover the money that you have put into the app development process.
This is where the designing part of your app ends. Lets that about something you've been waiting for.
Read More: React Native 0.60 Update: Reasons why React native is Future for App Developers
Time to Make Some Money: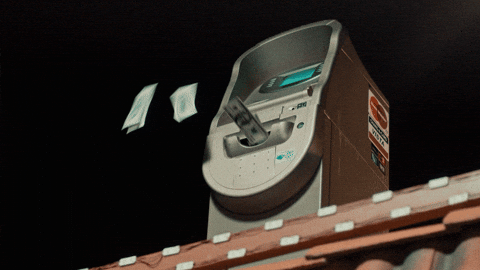 This step will throw us back to the step where we were researching the market and competition. If we look a little deep into this practice you will see that you are not just finding who you are competing with but you are also narrowing the possibility of your perfect audience.
Hitting the crowd with stone without knowing who your target is only to make your efforts go in vain. You will be putting so much capital on stack here. By narrowing your audience you are making the monetizing process more effective.
So once you know where your target is you can aim clearly and this increases the chance of hitting the target by 100%. Now the only thing you need is the right practice to target them.
As the target audience is decided now we need to find a way to make the app and its features paid. But how? Well, it is hard to convince users to make them trust you and send money over the internet to you.
So there are several ways you can make money with your app like, in-app purchases, crowdfunding, sponsorships, freemium model, ad revenue and those annoying ads people use.  Just to be clear we are not actually guiding you here on how to monetize your app because that is a whole new world just like app design. So stay tuned with us and we will guide you on how you can monetize your app. Till then you can take the help of Medium. They have put a very informative blog on how to turn your app into an atm machine (not the actual one).
Well, this is the end of our guide on how you can design your app to that will not just work but create a bright future for your app.
Read More: Key Points to Developing Mobile App Architecture
My name is Nicolas Thomas. I am Managing Director and Co-Founder of Indian App Developer, leading Software and Mobile App Development Company India. My ideology is that a clear vision and hard work build a great company. I started my career in Information and Technology 10 years back as a new-age Entrepreneur in emerging digital India.
Get In Touch
Join the hand to hire the most reliable Indian app development company now!
MAIL TO OUR SALES DEPARTMENT
All Address
USA
815 Hutchinson River Pkwy, The Bronx, NY 10465, USA
UK
Maidstone ME16 0ZG, United Kingdom
DUBAI
Apartment 512 Building 49,
Discovery gardens,
Dubai UAE
INDIA
P. No.31,Shree Krishna Tower,
Nirman Nagar- E,
Opposite Asopa Hospital,
Ajmer Road,
Jaipur (Raj.) India